Rooibos Tea
Rooibos Tea, also known as Red Tea or Redbush, is not an actual tea derived from the Camilla Sinensis plant. Rather Rooibos comes from an herb, which is indigenous to the Cederburg area of South Africa. This herbal tea or infusion has no caffeine and only half the tannin of ordinary brew.

Apart from being a tasty, enjoyable beverage that can be drunk instead of true tea or coffee, Rooibos has the added benefit from its natural minerals and health-preserving antioxidants.

Health Benefits

Scientists from Japan, who did studies in the 1960's, discovered Rooibos contains powerful antioxidants that are thought to retard aging and have potent anti-inflammatory properties.

In addition, the herb is also found to contain the flavanoid, aspalathin, which counteracts the atherosclerotic processes that result in heart disease. Additional research by the French revealed that hair lotion containing Rooibos promoted faster hair growth with improvement in the hair condition -- and caused no allergic reactions.

South African researches found that the polyphenol content in Rooibos is similar to green tea. Polyphenols help protect the body from damage by free radicals. Other studies link Rooibos tea to helping lessen digestive problems, nausea, stomach cramps and constipation. In addition, drinking the brew can have a calming effect and has been shown to help with irritability, insomnia and depression.

Brewing and Serving

Preparation is the same as ordinary tea. First warm the tea pot with boiling water and then place one teaspoon of Rooibos or one tea bag per cup required in the pot.

Pour over boiling water and let infuse for a few minutes. The longer it is left before drinking the more antioxidants the brew will contain.

Rooibos has a distinctive red hue and a sweet and slightly nutty flavor. The herbal infusion can be served plain, with hot or cold milk or lemon. It can be lightly sweetened with honey or sugar or just left without any sweetening. Rooibos also makes a wonderful ice tea.

In South Africa, Rooibos tea is often used in daily meal preparation because of the important minerals and antioxidants it adds to the diet. It also enhances the flavor of select foods. Just replace the water in a recipe with the brewed tea.

This article was written by Nicky Pilkington of HealthandFinesse.com.


---
Rooibos Blends from RCM Tea Shop
---
Rooibos Tea Sampler


Enjoy four distinctive Rooibos teas from RCM Tea Shop. You will receive 1oz of the following teas that will yield around 10 cups each type (for a total of 40 cups): Classic Red Rooibos, Jamaica Red Bush, Caramel Rooibos, and Rooibos Spiced Chai. Brewing guidelines are on each tea's label.
---
Classic Red Rooibos (Organic)


This traditional Rooibos from RCM Tea Shop has a deep, dark red infusion with a full body and sweet finishing flavor. It tastes great hot or iced. USDA Certified Organic.


---
Rooibos Cranberry-Orange (Organic)


A sweet, slightly tart, blend of Rooibos, dried cranberries, orange peels and hibiscus petals.




---
Jamaica Red Bush (Organic)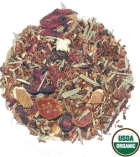 This delightful herbal tea is a blend of Organic Jamaica Flowers with Organic Rooibos and Organic Honeybush. The tea features a robust, fruity body with complex notes of mango, passionfruit and rare island spices. USDA Certified Organic.


---
Caramel Rooibos (Organic)


This naturally sweet, deep red herbal blend infusion is complemented with rich notes of caramel flavoring (sugar free) that satisfies the sweet-tooth. It provides a delicious tasting beverage served hot or over ice.

---
Rooibos Spiced Chai (Herbal Organic)


A premium herbal blend of organic Rooibos, chamomile, carob, cardamom, cloves, cinnamon, orange peel and cassia, maple & clove oils. Delightful with milk and sugar or honey. USDA Certified Organic.
---
Vanilla Rooibos (Organic)


A smooth, sweet blend featuring organic Rooibos flavored with natural vanilla.



---
Visit the RCM Tea Shop Shop for More Loose Leaf Teas

Related Articles
More on Rooibos Tea

Herbal Tea Benefits

Health Advantages of Green Tea



Return to Learn About Tea Home Page