Tea Party Games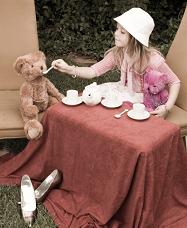 Tea party games have been around as long as there have been children to enjoy them.
Dressing up and sitting at a small adorned table, along with favorite dolls or stuffed animals, and serving each one tea from a beautiful tiny little tea set has been among every little girl's favorite pastimes.
While these "pretend" tea parties certainly tap the imagination and fill pleasing hours in the day, children also enjoy festive, planned tea parties where they can socialize and play games with friends, family and neighbors, including boys as well as girls.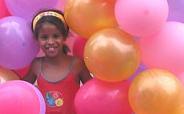 The tea parties may be planned to celebrate birthdays or special events – or to give children a unique experience. The key to any great party (whether tea is the attraction or not) is the opportunity for children to have fun and interact with others.

That's why these special tea-drinking events typically include special games and activities such as:

When planning a tea party, be sure to involve your child in the preparation and execution of the event. It will serve as an excellent learning experience, along with being an enjoyable activity to do together.

Have your child write and mail the invitations, help choose party favors, select tea games, decorate the party area, and decide what foods to serve.

Tip: Include this memorable nursery rhyme in your party, either in the invitation or just having a sing along. You'll be carrying on a tradition that has lasted for generations.

"I'm a little teapot, short and stout
Here is my handle, here is my spout
When I get all steamed up, hear me shout
Just tip me over and pour me out!"


For party themes, tea party invitations, serving suggestions and other ideas, click on the helpful articles below.
Related Articles
More Tea Party Games

Tea Party Themes

Host a Teddy Bear Tea Party

Tea Parties for Adults

Victorian Tea Party Games and Enjoyment

Inspiration for Tea Party Ideas

Tea Party Invitations

How to Make Russian Tea Cakes

Difference Between High Tea and Afternoon Tea



Return to HOME Page