Diamonds
It's the hardest and brightest, and inseparable from our modern culture. Discover the science and history behind the world's favorite gem.
Learn About Diamonds
Learn all you need to know about the basics of buying diamonds.
Buying a Piece of Forever
Diamonds -- Dictionary
FAQ about Diamonds

Eleven Questions to Test Your Jeweler
Ask a jeweler these questions (or find out for yourself) to see if the store measures up to the necessary standards.

How to Decide on the 4 Cs in Minutes
A practical shortcuts to help you make the right decisions on the crucial 4 Cs of diamond quality. We will help you zip through all the details, narrowing your diamond hunt to a gem that will make you and your lover proud for many years to come.

Avoiding Common Scams
We will help you avoid the most common scams still found in fine jewelry stores across the world.

Diamond Dictionary
Need a helping hand?
Check the quick glossary of
Diamond Facts
Diamonds are actually four times harder than the next hardest substance.

Diamond Jewelry
Marquise Diamond Ring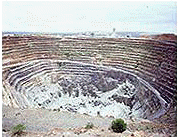 The Mondera Adventure
Few countries have endured as much change this decade as South Africa. See what this means to the diamond industry.
More Information