Rubies
The color of courage and blood, rubies are even more precious per carat than diamonds. See why the Biblical authors to modern collectors use them as the measure of ultimate value.
Learn About Rubies
Learn all you need to know about the basics of buying rubies.
Ruby Jewelry
Browse through a quick selection from our Jewelry Shop


Ruby and Diamond Earrings
Ruby Facts
Chemically speaking, rubies are identical to sapphires, but in a rare red color.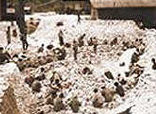 The Mondera Adventure
Get down and dirty with real miners of sapphire and rubies as we take you on a journey to Mogok, Burma. It's the home of some of the most famous gemstones the world has ever known