PERIDOT
Peridot is a gem that gets around. From ancient Egypt to present-day Apache
mesas, even in space meteorites--you never know where its green gleam is
going to show up.
LEARN ABOUT PERIDOT
Learn all you need to know about the basics of buying peridots.
PERIDOT FACTS
Peridots have been found imbedded in meteorites.
The GEM Store



Cushion cut, 10.67carats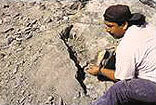 The Mondera Adventure
Climb the desert mesas of Arizona's Apache reservation, where the largest peridot deposits in the world have been uncovered.