TANZANITE
Millions of years in the making, deep-violet tanzanite revealed itself to humans only thirty years ago. Read about this newest discovery.
Learn About Tanzanite
Learn all you need to know about the basics of buying tanzanite.
The Gem Store



Emerald cut, 11.84 carats
TANZANITE FACTS
Tanzanite is found in only one place in the world--Tanzania.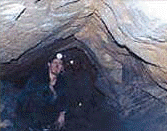 The Mondera Adventure The Mondera Adventure
Join us in the depths of a Tanzanite mine to discover the dangers of digging so deep in the earth.