Tea Accessories
T-Sac Tea Pouches (Tea Bags)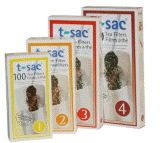 These easy-to-use tea pouches (tea bags) are the perfect way to brew loose leaf tea without a tea infuser or strainer... whether you are at home and or on the go.

Just spoon your tea into the envelope-style filter, and drop it in your cup or teapot. No holder is needed. Product features include:
Set of 100 disposable loose tea filters per box
Four sizes available for brewing 1-12 cups
Biodegradable and earth-friendly
Chlorine- and bleach-free
Makes great tasting tea with the convenience of a tea bag
Round Mesh Teaball - 3 Sizes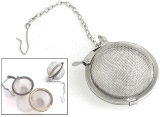 Available in three sizes, these handy mesh teaballs make brewing a cup or small pot of loose leaf tea easy and convenient. Choose your teaball size based on whether you typically prepare a small cup, large cup or small pot of tea at a time.
2" Mesh Teaball: $ 3.00
2-1/2" Mesh Teaball: $ 3.50
3" Mesh Teaball: $ 4.00
(Also see the 4" Jumbo Teaball Strainer listed next.)
---
English Tea Strainer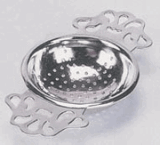 This nicely detailed chrome tea strainer is designed to hold enough tea to brew one cup at a time. Place your strainer with tea on the edge of a cup filled with heated water. Then, steep until your tea is brewed to perfection.
---
Finum Infuser Basket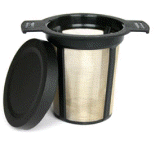 This popular infuser is sized to fit most teapots, cups and mugs. Features a gold plated, stainless steel mesh filter and a durable, heat resistant plastic casing. Comes with reversible lid that doubles as a coaster for the basket.
---
Matcha Whisk - Bamboo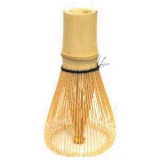 This is a traditional Japanese whisk used to make matcha by mixing green tea powder and water. Made in Japan, this beautiful whisk is carefully crafted using a single piece of Bamboo.

To purchase Organic Matcha Green Tea Powder, click here and view the matcha listing at the bottom of the Green Tea page.
---
Glass Tea Set for 2 with Infuser and Warmer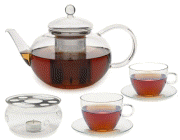 A simple, elegant tea set for two for brewing and enjoying loose leaf or blooming teas. Includes 42 oz glass teapot, glass pot warmer and 2 glass cups and saucers.


---
Set of Traditional Red Infuser Mugs


A tea-for-two gift set from RCM Tea Shop packaged in a red silk brocade box. Each tea mug has an infuser for brewing tea right in the cup, along with a matching lid to keep the tea tempting and hot.
---
Blue Peony Tea Set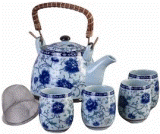 This traditional Chinese tea set features an attractive blue floral pattern and includes four porcelain tea cups that each hold 5 oz of tea, a 35 oz matching tea pot and a removable mesh diffuser for brewing loose tea.
---
Chinese Landscape Tea Set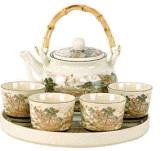 This beautiful tea set for four features a intricate Chinese landscape scene. The six-piece set includes a 24oz teapot, four 4oz cups, and a 9" diameter serving tray.
This is a perfect all-occasion gift for a tea lover. Consider getting an extra set for yourself to use on special occasions and to have on display for others to enjoy. The set comes packed in a silk-lined box.
---
Tea Caddy – Teapot-Shaped

Teapot-shaped ceramic tea caddy or dish designed to hold tea bags, infusers, t-sacs, etc. Available in white or cobalt blue (these match the white and cobalt tea pots and creamer sets).
Small Blooming Tea Gift Set with Gold Box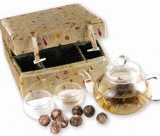 A unique gift for someone who appreciates all the wonders of tea... flavor, aroma and beauty. This blooming tea gift set includes a 21oz tempered glass teapot that is designed to show the flowering tea in action. There is also an infuser to use when brewing loose leaf tea. Not made for stove-top use. Dishwasher safe.
The attractive set includes two 1.5oz cups and 65g of 8 blossom green tea. Packaged in a beautiful gold floral fabric box.

Return to Storefront
---
Green Teas
Oolong Teas
Black Teas
White Teas
Chai Teas
Herbal & Fruit Teas
Rooibos Teas
Flavored Teas
Decaffeinated Teas
Tisanes
Blooming Teas
Gifts
Accessories
Shipping Information
Contact Us
Visit Alrashid Cyber Tea Shop
---


Return to RCM Tea Shop storefront