Decaffeinated Teas
Black, oolong, green and white teas come from the Camellia Sinensis tea plant, which naturally contains caffeine. The amount of caffeine in a cup of tea varies based on the fermentation process, leaf size, leaf location on the plant, and preparation method.

Tea has less caffeine that a cup of coffee, which can range from 104-192 milligrams per cup, according the American Beverage Association. The International Food Information Council reports the average caffeine per cup of black tea at 40 milligrams; oolong tea at 30 milligrams; green tea at 20 milligrams; and white tea at 15 milligrams.

The decaffeination process can remove almost all of the caffeine present in tea. Though, each cup will still contain about two milligrams of caffeine. Yet, herbal infusions (also called herbal teas) made from fruits, herbs and other plants that are not related to the Camellia Sinensis tea plant are naturally 100% caffeine free.
Decaffeinated Tea Sampler


Enjoy four distinctive decaffeinated teas from RCM Tea Shop. You will receive 1oz of each of the following teas that will yield around 10 cups each type (or 40 cups of tea in total): Decaf French Vanilla Bean, Decaf Apple Cinnamon, Decaf Earl Grey, and Decaf English Breakfast. Brewing guidelines will be detailed on each tea's label.
---
English Breakfast Decaffeinated (Organic)


Enjoy the robust flavor of traditional English Breakfast Tea, with minimal caffeine. A blend of China Keemun Black with India Nilgiri Black, it is rich and full-bodied. Also delicious iced.


---
Apple Cinnamon Decaffeinated


Enjoy the sweet flavors of cinnamon and freshly harvested apples infused in an organic decaffeinated Ceylon Black Tea. Satisfying and light. Tempting hot or iced, with a splash of milk.


---
French Vanilla Bean Decaffeinated (Organic)


An appealing, smooth flavored decaffeinated Ceylon Black Tea from RCM Tea Shop infused with carob and natural vanilla. Great hot or iced. USDA Certified Organic.


---
Earl Grey Decaffeinated (Organic)

This popular, savory Earl Grey blend from RCM Tea Shop features decaffeinated Indian and Ceylon Black Teas for a satisfying brew served hot or over ice. USDA Certified Organic.


---
India Green Decaffeinated – Korakundah Estate (Organic)


Flavorful, Organic Decaf Green Tea from the Korakundah Estate, one of the premier tea estates in the Nilgiri region of South India. USDA Certified Organic.


---
Smooth Spearmint (Herbal)


Dried spearmint leaves make a minty, refreshing drink that is highly satisfying both hot and cold. A native of the Mediterranean, spearmint was revered by ancient Romans for its ability to stir up the mind. It continues to be savored for its refreshingly light aroma, as well as its natural, uplifting taste.
---
African Hibiscus-Honeybush (Herbal Organic)


This sensational Indulge Tea herbal combines the sweet flavor of 100% Organic South African Honeybush with the tartness of 100% Organic Egyptian Hibiscus. A wonderful brew - hot or cold!. Not too sweet, not too tart - just right.
---
Fruit Medley Sensation (Herbal)


This sweet, flavorful herbal tea brings together the natural flavors of raspberry, strawberry, hibiscus flowers, blackberry, apples, rose hips, elderberry and bilberry.


---
Cha-Cha Herbal Twist (Herbal)


This Indulge Tea Cha-Cha Herbal Twist delightfully blends soothing Chamomile, refreshing Peppermint and zesty Lemongrass into a wonderful herbal brew sure to treat your taste buds.


---
Pina Colada Treat (Herbal)


This savory herbal infusion features a mix of ripe pineapple, savory coconut, fresh apples, rosehips and hibiscus flowers. A tropical delight, it is an excellent choice to be enjoyed hot or iced.


---
Lemongrass Herbal Delight


Dried Lemongrass leaves from RCM Tea Shop make a zesty, refreshing drink that is highly satisfying both hot and cold. A native of Southeast Asia, Lemongrass from RCM Tea Shop offers a light lemony taste, with slight hint of ginger. This tempting infusion is known to lift the spirit, aid digestion, and offer other wellness attributes.
---
Blood Orange Splash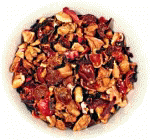 This herbal infusion is a delicious blend of natural fruits that brews up a mouthwatering cup of herbal tea. The sweet flavor is all natural, emanating from orange peels, hibiscus flowers, apple pieces, rose hips and safflower.
---
Classic Red Rooibos (Herbal Organic)


This traditional Rooibos has a deep, dark red infusion with a full body and sweet finishing flavor. It tastes great hot or iced. USDA Certified Organic.



---
Jamaica Red Bush (Herbal Organic)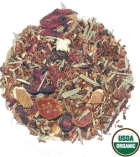 This delightful herbal tea is a blend of Organic Jamaica Flowers with Organic Rooibos and Organic Honeybush. The tea features a robust, fruity body with complex notes of mango, passionfruit and rare island spices. USDA Certified Organic.


---
Caramel Rooibos (Herbal)


This naturally sweet, deep red herbal blend infusion from RCM Tea Shop is complemented with rich notes of caramel flavoring (sugar free) that satisfies the sweet-tooth, while providing a delicious tasting beverage served hot or over ice.


---
Rooibos Spiced Chai (Herbal Organic)


A premium herbal blend of organic Rooibos, chamomile, carob, cardamom, cloves, cinnamon, orange peel and cassia, maple & clove oils. Delightful with milk and sugar or honey. USDA Certified Organic. Note: If you have hay fever or goldenrod/ragweed allergies, check with your doctor before drinking tea containing chamomile.
---
Return to Storefront
---
Green Teas
Oolong Teas
Black Teas
White Teas
Chai Teas
Herbal & Fruit Teas
Rooibos Teas
Flavored Teas
Decaffeinated Teas
Tisanes
Blooming Teas
Gifts
Accessories
Shipping Information
Contact Us
Visit Alrashid Cyber Tea Shop
---