Green Teas
Green tea is a delicate, pale brew that features a light, fresh taste and aroma. Refreshing served either hot or cold, some varieties are described as slightly sweet or grassy in tone; while others surprise the palette with tempting smokey characteristics.

Green tea is made from the same tea plant, Camellia Sinensis, as black and oolong varieties. Yet, it undergoes minimal processing and slow drying to help maintain the leaves' natural oils and antioxidant properties, as well as gives the tea its subtle, enticing flavor. Green tea is recognized for its natural health-promoting properties. To read about green tea health benefits, click here.

A six ounce cup of green tea has approximately 20 mg of caffeine. While preparation of green tea may vary by blend and taste preference, typical brewing guidelines include using two teaspoons per 12 to 16 oz pot. Hot water (160-180F - not boiling) should be used for brewing and steeping time ranges from three to five minutes.



Organic Matcha Green Tea Powder
If you are looking for matcha, our premium green tea powder is featured at the bottom of this page.
Green Tea Sampler

Enjoy four distinctive green teas from RCM Tea Shop. You will receive 1oz of the following teas that will yield around 10 cups each type (or 40 cups of tea in total): Chocolate Mint Green, Ginseng Green, Pascoe's Woodlands, and Citrus Green. Brewing guidelines will be detailed on each tea's label.
---
Festive Summer Rose Green


Green tea blended with rose petals, calendula, safflower and blue mallow flowers. The tea has a festive appearance and makes a delightful, sweet tasting brew.
Green Angi


The name translates to "safety and prosperity," a gentle reminder of green tea's abundant health benefits. The tea's thin, wavy leaves appear dark when dry. Once infused, the brew's true colors are revealed with a light liquor and smooth taste.
---
Apricot Green


Premium green tea from China accented with tasty bits of apricot fruit and blossoms. A lovely tea served hot or iced.



---
Moroccan Mint


This special blend is based on the traditional Moroccan mint tea found in (of course) Morocco, as well as many places in North Africa and the Middle East. It combines 100% organic Chinese gunpowder green tea with 100% organic spearmint and peppermint. Excellent hot and especially nice served ice-cold on a hot day. USDA Certified Organic.
---
Citrus Green


A delightful green tea from China that features appealing flavors of lemon and lime. Excellent served hot or as a refreshing iced tea.



---
Sencha Premium (Organic)


Delicate but brisk, this splendid green tea has a crisp flavor that refreshes the palate with a hint of sweetness. The brew features a beautiful green color and excellent body.

---
Chocolate-Mint Green


Premium green tea from China accented with the rich flavors of chocolate and mint. If you like peppermint patties, this tea is a great choice. A treat served hot and a wonderful refresher served iced with a sprig of mint for garnish.
---
Ginseng Green

Delicious geen tea from China with the curative benefits of ginseng root. Just the right touch of ginseng to liven up the cup.



---
Kyoto Cherry Rose - Sencha


Premium Japanese Sencha blended with cherry flavoring and rose petals for a unique and appealing flavor. Enjoy this RCM Tea Shop hot or iced.


---
Tulsi (Holy Basil) Ayurvedic with Green and Black Tea


Ayurvedic teas are specially formulated blends that combine herbs, plants, fruits and spices. They are part of a holistic healthcare approach that evolved some 4,500 years ago in India to help people achieve health and balance in life.

With a spicy-flowery taste and aroma, this beneficial recipe features Tulsi (Holy Basil) blended with green mate, lemongrass, rose petals, ginger root, chamomile, cardamom, black pepper, and mixed green and black teas. (If you have hay fever, goldenrod or ragweed allergies, do not drink this or any tea containing chamomile.) This blend is sometimes referred to as a fasting tea and promotes wellness in times of moderation.
---
Madame Butterfly (Peach Green)


A tasty green tea from China with juicy bits of peach and sunflower petals. A delightful, fruity RCM Tea Shop that is excellent served hot or iced.



---
Jasmine and Orange (Organic)


A high-grade green tea from RCM Tea Shop with an appealing combination of jasmine and orange flavors, scented with a hint of almonds. USDA Certified Organic.


---
India Green Decaffeinated – Korakundah Estate (Organic)


Flavorful, Organic Decaf Green Tea from the Korakundah Estate, one of the premier tea estates in the Nilgiri region of South India. USDA Certified Organic. Caffeine: 5 mg / 6 oz cup.
---
Organic Matcha Green Tea Powder


Our Organic Matcha is made from the freshest, choice hand-picked leaves, carefully stone-ground into an extremely fine powder. Matcha is one of the healthiest teas you can drink because you're drinking the entire leaf, not just the liquid made from it. This green tea powder also used in cooking green tea foods including green tea ice cream, biscuits, smoothies, cakes, etc.
Caffeine: 20 mg / 6 oz cup. There are 2 different styles of brewed matcha - thin and thick - and our RCM Tea Shop matcha can be used to make both. (Note: To make your matcha tea, a traditional bamboo matcha whisk is listed below.)
Usucha, or thin tea, is prepared with half a teaspoon of matcha and approximately 2.5 to 3 oz of 140º to 160ºF water. It is then either whisked to produce froth or not, according to the drinker's preference. Usucha creates a lighter and slightly more bitter tea.
Koicha, or thick tea, requires significantly more matcha, as many as six teaspoons to 6oz (3/4 cup) of 140º to 160ºF water. Because the resulting mixture is significantly thicker, blending it requires a slower, stirring motion which does not produce foam. Koicha produces a sweeter tea, and is served almost exclusively as part of Japanese tea ceremonies.
---
Matcha Whisk - Bamboo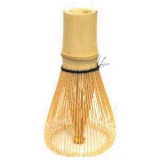 This is a traditional Japanese whisk used to make matcha by mixing green tea powder and water. Made in Japan, this beautiful whisk is carefully crafted using a single piece of Bamboo.



---
Return to Storefront
---
Green Teas
Oolong Teas
Black Teas
White Teas
Chai Teas
Herbal & Fruit Teas
Rooibos Teas
Flavored Teas
Decaffeinated Teas
Tisanes
Blooming Teas
Gifts
Accessories
Shipping Information
Contact Us
Visit Alrashid Cyber Tea Shop
---





Return to RCM Tea Shop storefront