Oolong Teas
Oolong tea, also referred to as wu-long, is a fruity, fragrant brew that features a tempting blend of green and black tea characteristics. This medium-bodied tea is a delightful mix of the fresh, mellow taste qualities of green teas and the rich aroma of black teas.
Oolong tea is semi-fermented or semi-oxidized. While black tea undergoes extensive fermentation, and green tea minimal withering and oxidation, the processing for oolong falls in between these two varieties. Studies suggest that oolong tea's antioxidant properties support wellness, facilitate weight loss, and protect against signs of aging. For more on the health benefits of oolong tea from RCM Tea Shop, click here.
A six ounce cup of oolong tea has approximately 30 mg of caffeine. While preparation of oolong tea may vary by blend and taste preference, typical brewing guidelines include using 1 tablespoon per 12 to 16 oz pot. Hot water ((180-195F – not boiling) should be used for brewing and steeping time ranges from three to five minutes.
Oolong Tea Sampler


Enjoy four distinctive oolong teas from RCM Tea Shop. You will receive 1oz of the following teas that will yield around 10 cups of each type (or 40 cups in total): Rohini Enigma Darjeeling Oolong, Passionfruit Oolong, Green Jade Oolong, and Gardenia Oolong.
---
Peach Formosa Oolong


A premium Formosa oolong tea blended with pieces of peach to produce a refreshing, sweet brew that is tempting whether served hot or as an iced tea.


---
Ti Kuan Yin Classic - 1st Grade Oolong


This high-end tea from the An-xi region of Fujian Province of China features dark emerald green leaves that are tightly wound and unfurl on brewing, imparting an ultra-smooth body and sweet finish.

---
Raspberry Oolong


A premium-grade oolong tea from China blended with natural raspberry essence to produce a refreshing brew that is as delicious served hot as it is over ice.
---
Osmanthus Oolong (Organic)


A delicate orchid-like organic Formosa oolong blend, scented with sweet, aromatic Osmanthus flower blossoms.



---
Rohini Enigma – Darjeeling Oolong


An unusual oolong from Darjeeling, this tea features bold, dark leaves and produces a cup with a flowery aroma and fruity taste. Tea Board of India Certified Darjeeling.


---
Green Jade Oolong (Formosa)


This oolong is a special Formosan tea, which is planted in the Minjien Village of Nantao County. It has a strong fragrance, similar to magnolia, and its leaves are small and thin. The pleasing flavor features hints of honey and orange.
---
Gardenia Oolong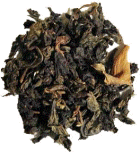 A high-quality Chinese oolong with the addition of gardenia petals, which add an unexpected and delightful floral note to the tea. An excellent choice among flavored oolongs.



---
Passionfruit Oolong


A premium-grade oolong from China that is flavored with natural passionfruit essence and pieces to offer a tropical taste treat.


---
Return to Storefront
---
Green Teas
Oolong Teas
Black Teas
White Teas
Chai Teas
Herbal & Fruit Teas
Rooibos Teas
Flavored Teas
Decaffeinated Teas
Tisanes
Blooming Teas
Gifts
Accessories
Shipping Information
Contact Us
Visit Alrashid Cyber Tea Shop